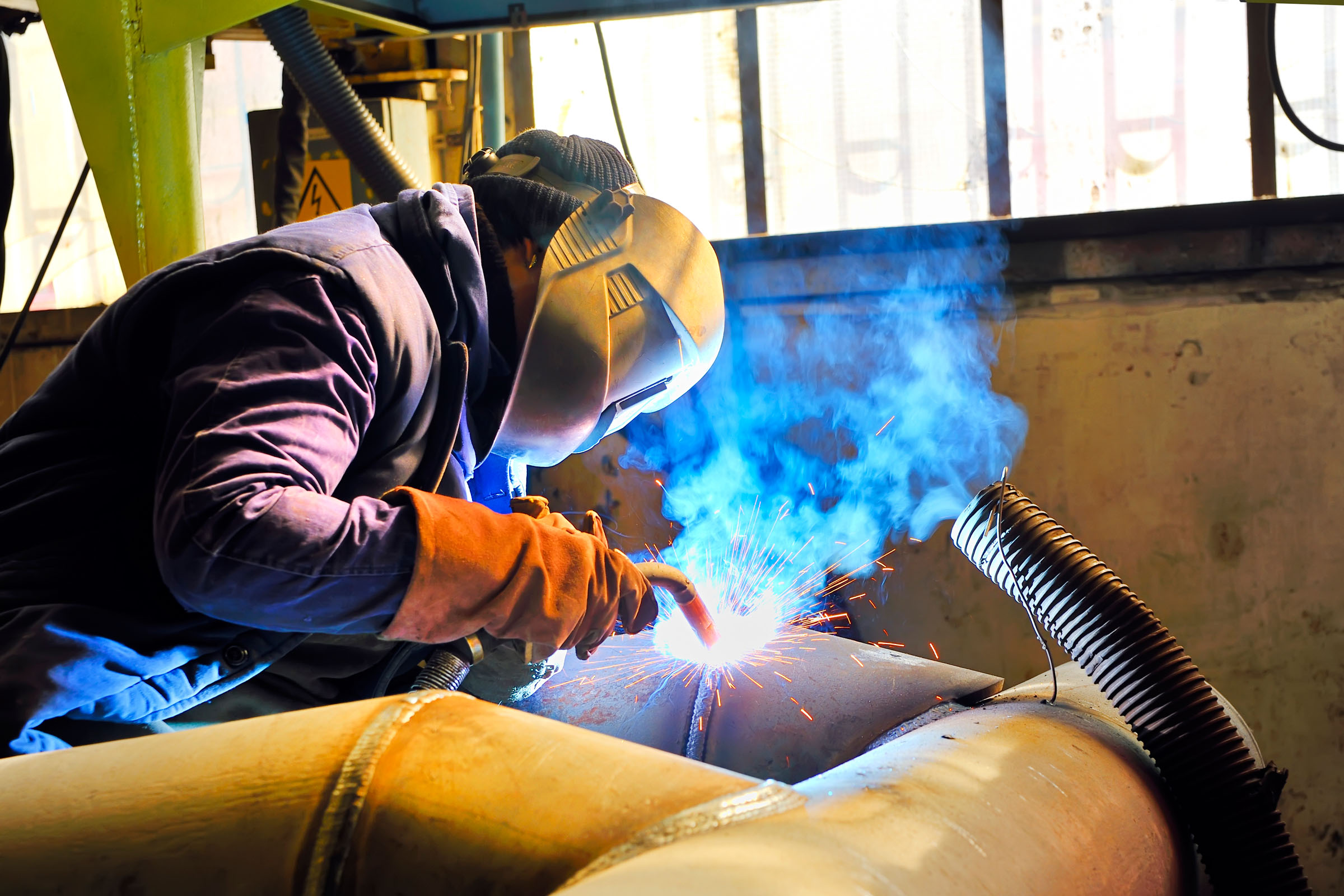 To become a certified welder, a person needs to complete a structured training program called a welding apprenticeship. A person can acquire the knowledge and abilities required to work as a professional welder through a welding apprenticeship. As an apprentice, you'll work under the direction of seasoned welders and obtain practical knowledge of a range of welding procedures and techniques. Metal parts are joined together using heat, pressure, or a combination of the two during the skilled craft of welding. It is a crucial step in several sectors, including engineering, manufacturing, and construction. An individual normally receives both classroom teaching and on-the-job training from an experienced welder or welding supervisor during a welding apprenticeship.
Depending on the program, the length of a welding apprenticeship might vary, although it normally lasts between two and four years. You will learn about topics including welding theory, safety procedures, reading blueprints, and welding rules and standards while working on the job and in a classroom throughout this period. Usually lasting several years, the apprenticeship program teaches the student various welding skills, safety precautions, and knowledge particular to the business. An individual is qualified to operate independently as a professional welder after completing a welding apprenticeship and is referred to as a journeyman welder. Apprenticeships in welding equip people with the knowledge and expertise necessary to prosper in a lucrative and in-demand career area.
For those who are interested in a career in welding but may not have prior experience or formal training, welding apprenticeships are a fantastic choice. You will have the chance to learn from seasoned professionals, gain useful skills, and obtain certifications that are recognized by the industry by taking part in an apprenticeship. These opportunities can lead to a range of career pathways in industries like manufacturing, aerospace, and construction.


Take welding classes: Learning the fundamentals of welding and honing your skills can be accomplished by enrolling in welding classes. A local community college, vocational school, or welding training facility may provide courses. Some high schools include welding instruction in their vocational curricula. When enrolling in a class, make sure to explore the curriculum and instructors to make sure you'll be acquiring the skills and practices that are most pertinent to your career aspirations. You can learn about various welding methods, safety precautions, welding gear, and other topics by taking welding lessons.


Choose a specialty: There are numerous welding specialties, including MIG welding, TIG welding, Stick welding, and more. Every discipline has its own unique set of methods, tools, and applications. You may build the specialized abilities and knowledge you'll need to become a successful welder by picking a discipline that interests you and putting your full effort into mastering it. Choose the discipline that is the best fit for you by doing some study, speaking with seasoned welders, and experimenting with various methods.


Become informed: It's crucial to learn about welding by reading and studying in addition to taking welding training and deciding on a discipline. Online sources, trade periodicals, and books can teach you about various welding techniques, safety procedures, welding gear, and market trends. You may learn more about the welding profession and interact with seasoned welders who can offer insights and guidance by going to trade exhibits and networking events. You may improve your welding skills and knowledge by always learning new things and keeping up with the most recent methods and technologies.


Get certification: Showing prospective employers and clients your knowledge and expertise in welding is possible by being certified. Check out the certification programs provided by agencies like the American Welding Society (AWS), which offers certification in a range of welding specialties. The normal requirements for certification include passing a written test and proving your proficiency in a real-world welding test. Although it is not necessarily necessary to get certified to work as a welder, it can increase your competitiveness as a job candidate and help you stand out in a crowded job market.


Ask about apprenticeships: Under the direction of seasoned welders, apprenticeships are an excellent way to enhance your abilities and obtain practical welding experience. Go online, get in touch with welding businesses, or speak to trade associations to find apprenticeship opportunities in your area. Many apprenticeship programs, which combine classroom instruction with on-the-job training, are supported by businesses or trade associations. Ask about the precise requirements and prerequisites for the apprenticeship programs you are interested in, and be ready to provide examples of your abilities and expertise when applying.


Pass a welding exam: As a condition of acceptance, some welding apprenticeship programs or employers may impose a welding exam on applicants. This may entail proving your welding knowledge and skills through a written test, practical test, or both. Ahead of time, make sure to research the pertinent welding techniques, safety precautions, and equipment. To help you get better at welding, put your abilities to regular use and get input from more seasoned welders. By passing a welding exam, you may prove your proficiency as a welder and raise your chances of getting hired for a welding position or admitted into an apprenticeship program.


Apply for positions: It's time to start looking for welding apprenticeships or jobs once you've finished your education, gained some experience, and obtained any relevant certifications. Search for job openings online, in your neighbourhood paper, or by networking with other welders or business people. Make sure to emphasize your experience and knowledge of welding in both your resume and cover letter, and make sure to tailor them to each opportunity you apply for. Throughout the interview process, be prepared to provide examples of your work and showcase your welding abilities.


In conclusion, having a combination of training, work experience, certification, and networking will help you become a successful welder. You can acquire the knowledge and credentials required to stand out in a crowded job market by enrolling in welding classes, picking a discipline, doing research, and earning certification. You can gain practical experience and build a network of business contacts by asking about apprenticeships and applying for welding positions. Finally, passing a welding exam can show that you are a skilled welder and raise your chances of getting hired for welding training jobs or being accepted into an apprenticeship program. By following these guidelines, you can develop a lucrative welding career and support several sectors that depend on qualified welders.